会話に役立つ100の慣用句慣用句〜100 useful basic Japanese idioms 〜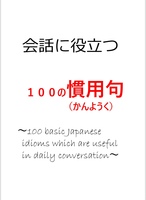 日常の会話によく使う、役に立つ慣用句を覚えましょう!

Let's learn basic Japanese idioms which are useful in daily conversation!
Lesson Description
慣用句(かんようく)=Japanese idiom

「さしみは足が早いです。」

Do you know what does this sentence mean?

Sashimi runs fast.....?

No, 「足がはやい」means "spoil quickly".

Japanese people often use Japanese idioms in daily conversation. In this lesson, let's learn about basic Japanese idioms called "Kanyouku慣用句". And let's try to use them in conversation.

By using "kanyouku", your Japanese will become more sophisticated:)

*This lesson is for intermediated /advanced students.




Students' comments
・日本語の不自由がありませんが、慣用語はあまり使ったことありません。とても役に立つ勉強になっています。またよろしくお願いします。<br>
・大変勉強になりました。
Teacher Tomo's schedule
Sun
Mon
Tue
Wen
Thu
Fri
Sat

25

20:00

20:30

22:00

22:30

23:00

23:30

26

17:30

18:00

18:30

19:00

21:30

22:00

27

20:00

20:30

21:00

22:00

22:30

23:00

23:30

28

17:30

18:00

19:30

20:00

20:30

21:00

21:30

22:00

29

17:30

18:00

19:30

20:30

21:00

22:00

22:30

23:00

23:30

30

17:00

20:30

21:30

22:00

22:30

23:00

1

17:00

20:00

20:30

21:00

22:30

23:00

23:30

2

20:00

20:30

21:00

22:00

22:30

23:00

23:30

3

21:30

22:00

22:30

4

18:30

20:00

20:30

21:00

21:30

22:30

23:00

23:30

5

20:00

20:30

21:30

22:00

22:30

23:00

23:30

6

19:30

20:00

20:30

21:00

22:30

23:00

23:30

7

17:00

17:30

18:00

19:30

20:00

20:30

21:00

22:00

22:30

23:00

8

20:00

20:30

21:00

22:00

22:30

23:00

23:30

9

10

17:30

18:00

18:30

21:30

22:00

22:30

11

17:00

17:30

18:00

19:30

20:00

20:30

21:00

22:00

22:30

23:00

23:30

12

17:00

17:30

18:00

19:30

20:00

20:30

21:00

22:00

22:30

23:00

23:30

13

17:00

17:30

18:00

19:30

20:00

20:30

21:00

22:00

22:30

23:00

23:30

14

17:00

17:30

18:00

19:30

20:00

20:30

21:00

22:00

22:30

23:00

15

20:00

20:30

21:00

21:30

22:30

23:00

23:30

16

17

17:00

17:30

18:00

18:30

21:30

22:00

22:30

18

17:00

17:30

18:00

19:30

20:00

20:30

21:00

22:00

22:30

23:00

23:30

19

17:00

17:30

18:00

19:30

20:00

20:30

21:00

22:00

22:30

23:00

23:30

20

17:00

17:30

18:00

19:30

20:00

20:30

21:00

22:00

22:30

23:00

23:30

21

17:00

17:30

18:00

19:30

20:00

20:30

21:30

22:00

22:30

23:00

22

20:00

20:30

21:00

21:30

22:30

23:00

23:30

23

24

25

26

27

28

29

30

31

1

2

3

4

5

6

7

8

9

10

11

12

13

14

15

16

17

18

19
mark shows that the booking slot is open. Please click the mark for booking.
24-hour notation
Teacher Tomo's other lessons