JLPT公式問題集を一緒に解こう!(N1-N5)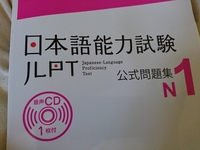 あなたが目指すJLPTの級の公式問題集を一緒に説いていきましょう。
1問1問ごとに詳しく説明していきます!

Let's pretend together the official JLPT class books you are aiming for.
I will explain in detail one question per question!
Lesson Description
*レッスンの流れ
1.1回目のレッスンでの進行具合から次回以降のレッスンのやり方(1レッスンの時間(25分or50分)、レッスン回数など)を決めましょう!
2.たのしく勉強しましょうね。

* Lesson flow
1. Let's decide how to practice lessons (lesson time of one lesson (25 minutes or 50 minutes), number of lessons etc) from the degree of progress in the first lesson!
2. Let 's study fun.

​この授業では画面を共有しますので、安定したインターネット環境が望ましいです。
Since this screen shares the screen in this lesson, a stable internet environment is desirable.
Teacher Miyu's schedule
| Sun | Mon | Tue | Wen | Thu | Fri | Sat |
| --- | --- | --- | --- | --- | --- | --- |
| 26 | 27 | 28 | 29 | 30 | 31 | 1 |
| 2 | 3 | 4 | 5 | 6 | 7 | 8 |
| 9 | 10 | 11 | 12 | 13 | 14 | 15 |
| 16 | 17 | 18 | 19 | 20 | 21 | 22 |
| 23 | 24 | 25 | 26 | 27 | 28 | 29 |
| 30 | 1 | 2 | 3 | 4 | 5 | 6 |
| 7 | 8 | 9 | 10 | 11 | 12 | 13 |
| 14 | 15 | 16 | 17 | 18 | 19 | 20 |
mark shows that the booking slot is open. Please click the mark for booking.
24-hour notation
Teacher Miyu's other lessons