日本語能力試験対策 JLPT N5, N4, N3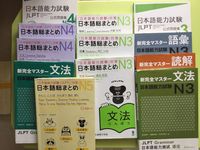 日本語能力試験対策の問題集(JLPT N5, N4, N3)を使って勉強します

Study with "So Matome" series and "Shin Kanzen Master series
Lesson Description
★日本語能力試験対策の問題集「総まとめ」「新完全マスター」のテキストを使って
試験対策の勉強をします。

★Preparation for Japanese-Language Proficiency Test : N5, N4, N3 using "So Matome" and "Shin Kanzen Master".

・クラスでいっしょにします。または、自分で予習(よしゅう)をして、わからないところを クラスで 聞きます。
You can go forward with your tutor or if you proceed by yourself and have some questions, you can ask in the class.

・習った文法を使って、例文を作ります
Make a sentence using new grammar expressions.
Students' comments
・good<br>
・Perfect!
Teacher Non's schedule
Sun
Mon
Tue
Wen
Thu
Fri
Sat

28

19:30

20:00

20:30

21:00

1

10:00

10:30

19:30

20:00

2

08:30

09:00

09:30

19:30

20:00

20:30

21:00

3

08:30

10:00

10:30

19:30

20:00

20:30

21:00

4

09:00

09:30

10:00

10:30

19:30

20:00

20:30

21:00

5

09:00

09:30

10:00

10:30

6

7

20:30

21:00

8

10:00

10:30

19:30

20:00

9

08:00

08:30

09:00

09:30

19:30

20:00

20:30

21:00

10

09:00

09:30

10:00

10:30

19:30

20:00

20:30

21:00

11

09:00

09:30

10:00

10:30

19:30

20:00

20:30

21:00

12

09:00

09:30

10:00

10:30

19:30

20:00

13

14

19:30

20:00

20:30

21:00

15

10:00

10:30

19:30

20:00

16

08:00

08:30

09:00

09:30

20:00

20:30

21:00

17

08:30

09:00

09:30

10:00

10:30

19:30

20:00

20:30

21:00

18

09:00

09:30

10:00

10:30

19:30

20:00

20:30

21:00

19

09:00

09:30

10:00

10:30

19:30

20:00

20

21

19:30

20:00

20:30

21:00

22

10:00

10:30

19:30

20:00

23

08:00

08:30

09:00

09:30

20:00

20:30

21:00

24

09:00

09:30

10:00

10:30

19:30

20:00

20:30

21:00

25

09:00

09:30

10:00

10:30

19:30

20:00

20:30

21:00

26

09:00

09:30

10:00

10:30

19:30

20:00

27

28

29

30

31

1

2

3

4

5

6

7

8

9

10

11

12

13

14

15

16

17
mark shows that the booking slot is open. Please click the mark for booking.
24-hour notation
Teacher Non's other lessons