今日はどんな一日でしたか?:How was your day?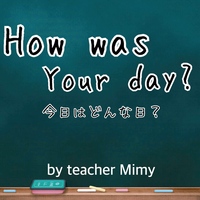 今日(きょう)はどんな一日(いちにち)を過(す)ごしたのか、日本語(にほんご)で話(はな)してみましょう!

Let's talk about what kind of day you had today in Japanese!

Lesson Description
今日(きょう)はお仕事(しごと)でしたか?、それとも、お休(やす)みの日(ひ)でしたか?
どこかへ出(で)かけましたか?家(いえ)でゆっくり過(す)ごしましたか?
今日(きょう)起(お)きたこと、あなたが感(かん)じたことを、日本語(にほんご)で表現してみましょう!
Are you off today or not?
Did you meet someone or you enjoyed free time at your home?
Let's try describing your day in Japanese!

自分(じぶん)の体験(たいけん)、自分(じぶん)の意見(いけん)を表現(ひょうげん)する練習(れんしゅう)は、対話(たいわ)を学ぶうえで、とても重要(じゅうよう)です。
Practicing to express your own experiences and your own opinions is very important for learning dialogue.



Teacher Mimy's schedule
Sun
Mon
Tue
Wen
Thu
Fri
Sat

26

22:30

23:00

27

28

22:30

29

30

1

22:30

23:00

23:30

2

22:00

22:30

23:00

23:30

3

22:00

22:30

23:00

23:30

4

5

22:30

23:00

6

22:00

22:30

23:00

7

8

9

22:00

22:30

23:00

10

11

12

13

14

15

16

17

18

19

20

21

22

23

24

25

26

27

28

29

30

31

1

2

3

4

5

6

7

8

9

10

11

12

13

14

15

16

17

18

19

20

Sun
Mon
Tue
Wed
Thu
Fri
Sat
mark shows that the booking slot is open. Please click the mark for booking.
24-hour notation
Teacher Mimy's other lessons