初心者の方へ:For very beginners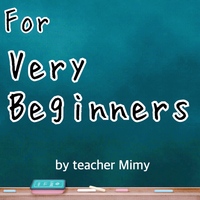 Why don't you learn simple Japanese before you travel to Japan or study in Japan?
Now, let's start learning Japanese!

Lesson Description
Don't worry if you have never spoken Japanese before.
I will explain things to you with English.

Let's practice simple sentences,
I will be flexible to suggest sentences according to your needs.


1.greeting people

2.introducing yourself

3.ordering food

4.asking simple questions.
Teacher Mimy's schedule
Sun
Mon
Tue
Wen
Thu
Fri
Sat

26

22:30

23:00

27

28

22:30

29

30

1

22:30

23:00

23:30

2

22:00

22:30

23:00

23:30

3

22:00

22:30

23:00

23:30

4

5

22:30

23:00

6

22:00

22:30

23:00

7

8

9

22:00

22:30

23:00

10

11

12

13

14

15

16

17

18

19

20

21

22

23

24

25

26

27

28

29

30

31

1

2

3

4

5

6

7

8

9

10

11

12

13

14

15

16

17

18

19

20

Sun
Mon
Tue
Wed
Thu
Fri
Sat
mark shows that the booking slot is open. Please click the mark for booking.
24-hour notation
Teacher Mimy's other lessons