Mina no Nihongo Lesson -「みんなの日本語Ⅰ・Ⅱ」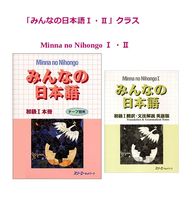 「みんなの日本語Ⅰ・Ⅱ」を使って、日本語の基礎から体系的に勉強します。

Study Basic Japanese using "Minna no NihongoⅠ・Ⅱ" which is well organized.
Lesson Description
教科書(きょうかしょ)と 英語版(えいごばん)の翻訳(ほんやく)・文法解説書(ぶんぽうかいせつしょ)を使います。

レベルに合わせた課(か)から 始(はじ)めることが できます。

ワークブックはインターネットにPDFがあります。
文型練習帳(ぶんけいれんしゅうちょう)も提供(ていきょう)できます。

Use the main textbook and the grammar book.
You can start any chapter dependeng on the level.
Workbook is available on the Internet.
I can provide practice sheets for sentence pattern.
Students' comments
Excellent!
Teacher Non's schedule
Sun
Mon
Tue
Wen
Thu
Fri
Sat

27

19:30

20:00

20:30

21:00

28

10:00

10:30

11:00

11:30

12:00

12:30

19:30

20:00

29

08:00

08:30

09:00

09:30

11:00

19:30

20:00

20:30

21:00

30

09:00

09:30

10:00

10:30

31

1

2

3

4

10:00

10:30

19:30

20:00

5

08:30

09:00

09:30

19:30

20:00

20:30

21:00

6

09:00

09:30

10:00

10:30

19:30

20:00

20:30

21:00

7

09:00

09:30

10:00

10:30

19:30

20:00

20:30

21:00

8

09:00

09:30

10:00

10:30

19:30

20:00

9

10

19:30

20:00

20:30

21:00

11

09:00

09:30

10:00

10:30

19:30

20:00

12

08:00

08:30

09:00

09:30

19:30

20:00

20:30

21:00

13

09:00

09:30

10:00

10:30

19:30

20:00

20:30

21:00

14

09:00

09:30

10:00

10:30

19:30

20:00

20:30

21:00

15

09:00

09:30

10:00

10:30

19:30

20:00

16

17

19:30

20:00

20:30

21:00

18

10:00

10:30

19:30

20:00

19

08:30

09:00

09:30

19:30

20:00

20:30

21:00

20

09:00

09:30

10:00

10:30

19:30

20:00

20:30

21:00

21

09:00

09:30

10:00

10:30

19:30

20:00

20:30

21:00

22

09:00

09:30

10:00

10:30

19:30

20:00

23

24

19:30

20:00

20:30

21:00

25

09:00

09:30

10:00

10:30

19:30

20:00

26

08:30

09:00

09:30

19:30

20:00

20:30

21:00

27

09:00

09:30

10:00

10:30

19:30

20:00

20:30

21:00

28

09:00

09:30

10:00

10:30

19:30

20:00

20:30

21:00

29

09:00

09:30

10:00

10:30

19:30

20:00

30

31

19:30

20:00

20:30

21:00

1

10:00

10:30

19:30

20:00

2

08:00

08:30

09:00

09:30

19:30

20:00

20:30

21:00

3

09:00

09:30

10:00

10:30

19:30

20:00

20:30

21:00

4

09:00

09:30

10:00

10:30

19:30

20:00

20:30

21:00

5

09:00

09:30

10:00

10:30

19:30

20:00

6

7

8

9

10

11

12

13

14

15

16

17

18

19

20
mark shows that the booking slot is open. Please click the mark for booking.
24-hour notation
Teacher Non's other lessons